Cycling the Gravel Roads of Virginia with the Gravel App


Featuring the Snickersville Turnpike!


---
A Scenic Drive In Loudoun County Virginia on the Snickersville Turnpike
- "Fun in Fairfax" article
---
Fight underway to save historic gravel roads in Northern Virginia | WJLA
Photo by Douglas Graham/WLP, used with permission
Please CLICK HERE (or on the photo) to have a look at this video clip, photo gallery and article prepared by WJLA - ABC 7 News - regarding the various efforts to preserve the character of the rural roads in Loudoun county. Professional photographer Douglas Graham contributed much to this story, and it includes other historical photos and maps.

While Snickersville Turnpike is no longer a gravel road, our goal of historical preservation is aligned with other efforts regarding gravel roads in Loudoun County. Here are a few more gravel road resources to explore:

- Photo Gallery for the WJLA - ABC 7 News story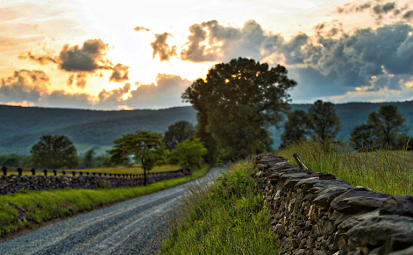 Photo by Douglas Graham/WLP, used with permission

- WJLA - ABC 7 News Facebook video post

- America's Routes Project Wins ADDY

- Gravel Routes in Loudoun - Blog and listings
---
Snickersville Turnpike named "Best Road in Loudoun" - Again!
- Loudoun Times Mirror

The Snickersville Turnpike has been named the "Best Road in Loudoun" for 2022 by the readers of Loudoun Times Mirror.

Thanks to those who voted!
---
This Might Be The Most Breathtaking Drive In All Of Virginia
Only In Your State article.
---
A dash of education has been added to historic Snickersville Turnpike in western Loudoun
Loudoun Times Mirror article.
---



The Pike is Getting a Facelift!


Milling and re-paving by VDOT starts April 26th beginning at the Aldie end.

---
STA Places Additional Historical Markers Along the pike
---



Hibbs Bridge added to the National Register of Historic Places and the Virginia Landmarks Register.



Built by the Snickers Gap Turnpike Company in 1829, Hibbs Bridge is one of only a few remaining stone arch bridges in Virginia and is the third oldest in Loudoun County. In addition to its architectural significance, the bridge was recognized for its association with the Snickers Gap Turnpike, one of the earliest operational turnpikes in the United States and a Virginia byway.

The recognition comes two decades after the Virginia Department of Transportation in 1990 announced plans replace the bridge, which engineers considered unsafe and inadequate. For the next 17 years area residents, joined together as Snickersville Turnpike Association, pressed local and state leaders to preserve and restore the bridge.

In 2007, an extensive rehabilitation project that retained the structure's historic character was completed. The original dimensions were observed, the roadbed above the two barrel arches was strengthened while retaining the bridge's "hump" feature.

"We are proud to have Hibbs Bridge recognized by our state and our nation," STA Chairman Henry Plaster said in announcing the action. "Both designations secure the historical significance of Hibbs in perpetuity, helping ensure its use and enjoyment for another 180 years."