Snickersville Turnpike Association Maps
The Snickersville Turnpike Association is pleased to offer for sale this beautiful historical map of the 'pike, researched and hand illustrated in a traditional folk map style by Eugene Scheel, of Waterford, VA.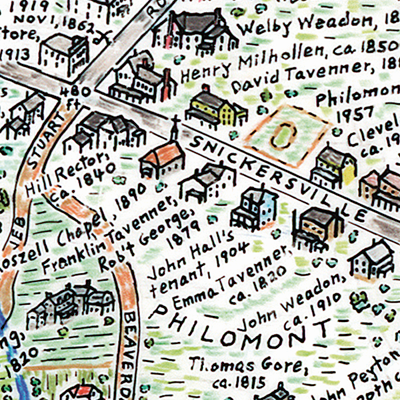 The map shows hundreds of structures, landmarks, towns, roads, and points of interest that still exist, or did exist, with dates of construction and other interesting facts.

It is a "must have" keepsake for anyone who enjoys the rural character of Snickersville Turnpike. It is suitable for framing and makes a great conversation piece in any home or office.

The price of the map is $25 and is available for sale to the public at Bluemont General Store and Philomont Store. It is also for sale through the STA booth at yearly events such as the Bluemont Fair and Aldie Harvest Festival.
At right you can see an example of the intricate detail of this map. It's a fascinating way to portray the 'pike!
---
Our "Driving Historic Snickersville Turnpike" Brochure
At many business locations along the 'pike, like the general stores in Bluemont and Airmont, you can pick up our "Driving Historic Snickersville Turnpike" brochure. Or, you can download it and print one for yourself, or just reference it with your cell phone.

The brochure includes a history of the 'pike, plus images and information about landmarks along the byway.

Here are the links to the brochure, in various resolutions depending upon your use:

Brochure Side 1 - Info (Lower Resolution for online reference)
Brochure Side 2 - Map (Lower Resolution for online reference)

Brochure Side 1 - Info (High Resolution for printing)
Brochure Side 2 - Map (High Resolution for printing)

Click either side for the low res image:

---


Here's a basic line art map of the turnpike (VA Route 734), and it shows the 'pike position within Loudoun County. It's a 15 mile journey along one of the most active commercial turnpikes of the 1800s.

From north to south, starting in Bluemont, be sure to stop at the general store. Then the 'pike passses then through Airmont, where you will find another general store, and then on to Philomont.

You'll cross Beaverdam Creek using the famous humpback Hibbs Bridge on your way to Mountville.

Soon you will travel over Goose Creek and then arrive in Aldie, the southern terminus of the 'pike.

Taking the 'pike from south to north, you will have the Blue Ridge Mountains as your backdrop for the entire ride!
---
Online Maps



Are you planning to travel the 'pike? Here are the modern online maps to help you find your way and other points of interest.

Bing Map
Google Map
Wikipedia Info